Leaders recognized by their peers at 2018 Council of the Great City Schools Chief Financial Officer Conference
November 15, 2018 – The 2018 Arthur Hanby Chief Procurement Officer Memorial Scholarship has been awarded to Gary Appenfelder, Director of Purchasing at Metro Nashville Public Schools, TN, and Tim Schmandt, Director of Procurement & Supply at Rochester City School District, NY. Sponsored by E&I Cooperative Services (E&I) in collaboration with the Council of the Great City Schools (CGCS), this prestigious award honors two senior procurement leaders with a scholarship of $2,000 each, a personalized plaque of recognition, and the opportunity to participate in the Council's Chief Financial Officer (CFO) Conference.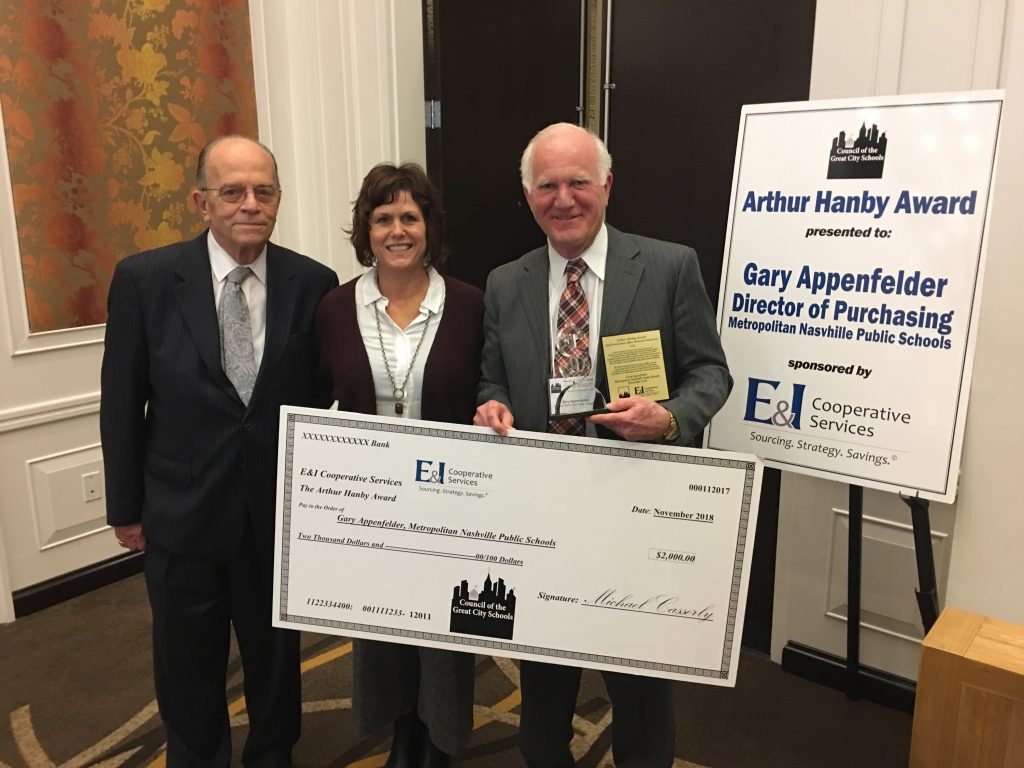 The CGCS CFO Conference brings Chief Procurement Officers (CPOs) and other strategic business leaders together to enhance their professional development and share best practices with Council peers. Scholarship recipients were selected by a distinguished panel of CGCS members. The scholarship honors the values set forth by Arthur (Art) Hanby, who served for more than 32 years as a purchasing agent and strategic sourcing and contracting officer for several urban districts. Art's career was devoted to providing a safe learning environment and the best possible tools and resources for students.
"Procurement excellence is something that school business leaders will always strive for," said Sue Peters, Director of K-12 Market Development at E&I. "In our experience it's best to have the CPO at CGCS districts participate in cabinet-level strategic planning. There are many more tools and services available today that can help drive cost savings and efficiency across the entire supply chain, and strategic CPOs can bring a unique perspective. We are extremely proud to bring this networking, learning, and professional growth opportunity to two outstanding professionals who emulate Art's dedication to procurement excellence, leadership, and innovation."
About the Council of the Great City Schools
The Council of the Great City Schools brings together 74 of the nation's largest urban public school systems in a coalition dedicated to the improvement of education for children in the inner cities. The Council and its member school districts work to help schoolchildren meet the highest standards and become successful and productive members of society. For more information, please visit: www.cgcs.org
About E&I Cooperative Services
E&I Cooperative Services (E&I) is the only member-owned, non-profit purchasing cooperative solely focused on serving education and related facilities. E&I delivers expertise, solutions, and services through a diverse portfolio of competitively solicited contracts. By leveraging the knowledge and purchasing power of its nationwide membership, E&I helps higher education and K-12 institutions reduce costs, optimize supply chain efficiencies, and save time on the RFP process. The Cooperative's member-driven competitive solicitation process has been validated by the National Institute of Governmental Purchasing (NIGP) as complying with generally accepted procurement standards. For more information, please visit: www.eandi.org