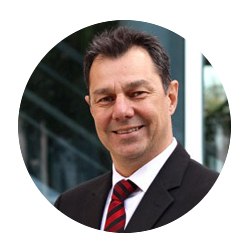 Amir Dabirian is the VP of IT overseeing all enterprise aspects of IT for California State University, Fullerton including ERP and the ISO. Amir has 26 years of experience in IT and is the former Assistant Vice Chancellor of ITS for the California State University, Office of the Chancellor.
Amir provides leadership for IT strategic planning, program development, and overall coordination for all aspects of centrally supported campus information technology. Amir works closely with faculty, staff, and administrators to implement the system-wide version of PeopleSoft's enterprise software for human resources, finance, and student systems. In addition, Amir has overseen faculty/staff computers on campus, enhanced the campus servers, desktop and network security, deployed a new campus voicemails system, and worked with Web Communications to introduce a new home page for the campus. Amir also was instrumental in the design and implementation of the Student/Faculty/Staff portals, brought Google Mail to campus for all students, completed the state-of-the-art network upgrade project (ITRP), oversaw the enterprise deployment of the Learning Management System (Blackboard), established the Office of Information Security and successfully completed CSU's first Information Security Audit. Amir's leadership was key to the implementation of the Information and Learning Commons on campus and the Emergency Notification System.
Amir earned his B.S. in electrical engineering with a concentration in computer science from California State University, Fullerton in 1985, a M.S. in electrical engineering with a concentration in systems and computer engineering from California State University, Fullerton in 1998, and a M.S. in computer science from the University of California, Riverside in 1998.
Email: amir@fullerton.edu