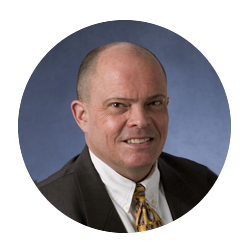 Barry Swanson currently serves as Chief Procurement Officer at the University of Kentucky. Prior to taking this position, Barry served as the Associate Vice Provost for Campus Operations/Chief Procurement Officer for the University of Kansas, where he was responsible for leading seven departments – Design and Construction Management, Facilities Services, Parking and Transit, Environmental Health and Safety, the KU Center for Sustainability, Procurement Services and the Campus Operations Business Center.
Barry joined KU in 1998 as Director of Purchasing and during his nearly 19 year tenure at KU has also served as the Associate Comptroller with responsibility for the Payroll, Bursar, Central Accounting, Financial Management and Financial Systems areas at KU. Barry has worked in the private sector as Director of Purchasing for Seaboard Farms, in government as a Procurement Officer for the State of Kansas Division of Purchases, and he began his career serving as a staff member in several political offices.
Barry has served as chair of the Purchasing Committee for the Midwestern Higher Education Compact and as the Kansas Board of Regents representative on the State Use Committee, which provides oversight to the Blind and Handicapped Workshop Program in Kansas. He has also served as the District V Representative on the NAEP National Board of Directors, and as co-President of the NAEP Great Plains Region.
Barry is a graduate of the University of Kansas with a degree in History and Political Science. He also has a Juris Doctor degree from the Washburn University School of Law.
Email: barry.swanson@uky.edu