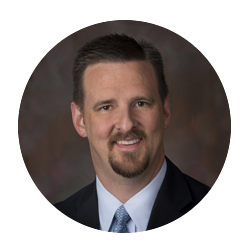 Dr. Brad Sheriff joined the University of Arkansas – Fort Smith (UAFS) in May 2016 as Vice Chancellor for Finance and Administration. In this role, he supervises the UAFS areas of Finance and Business Services, Human Resources, Plant Operations, IT Services, and the University Police Department.
Dr. Sheriff possesses extensive experience in higher education finance, having previously served as Assistant Vice Chancellor of Business and Finance for Academic Affairs at the University of Nebraska – Lincoln. Prior to that, he served as Associate Vice President for Business & Compliance at Indiana Wesleyan University. He also held several positions at the University of Illinois, including Director of University Strategic Procurement.
Dr. Sheriff has participated with the Big Ten Controllers' Group, the Big Ten Purchasing Directors' Group, and has been an active member of the Central Association of College and University Business Officers, serving on the Business and Finance Committee and the Audit Committee. He has also served on the Midwestern Higher Education Compact Master Property Program Leadership Committee and its Finance and Audit sub-committee.
In May 2018, Dr. Sheriff received a Doctor of Philosophy in Global Leadership with a specialization in Higher Education Administration from Indiana Institute of Technology. Prior to that, he completed a Certificate Program in Higher Education Management Development at Harvard University. Dr. Sheriff is a Certified Management Accountant and holds an MBA (Honors graduate) from the University of Illinois and a Bachelor of Arts in Business Management (Honors graduate) from Greenville College.
Email: brad.sheriff@uafs.edu