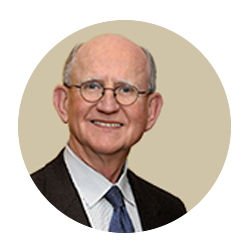 Burr Millsap is the Associate Vice President for Administration & Finance and Chief Purchasing Officer at the University of Oklahoma. He is a Certified Public Accountant. Burr earned his Bachelor of Science in Accounting from the University of Central Oklahoma, and his Master of Business Administration from the University of Oklahoma.
Burr teaches courses in Accounting and Financial Management, and has written texts on these subjects. He is a faculty member of the NAEP Professional Development Academy, serves as Associate Editor of the NAEP Journal, and is the association's newly elected Treasurer. He is the recipient of the 2016 E&I David H. Lord Award for Cooperative Purchasing and has received several NAEP awards throughout his career.
Notably – and extremely special to him – Burr's service includes eight years as a director on the E&I Board, three of those years as President. Burr continues to serve E&I in an advisory capacity for the Finance & Audit Committee. He is a retired Commander of the United States Navy Supply Corps, having served eight years of active duty during the Vietnam War era, and twelve years in the active Navy Reserve. He is an Eagle Scout.