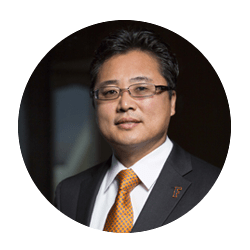 Danny C. Kim is the Vice President for Administration and Finance and Chief Financial Officer at California State University, Fullerton, one of the largest campuses in the CSU system with over 40,000 students. For the last 5 years, he has been responsible for university administrative services and functions such as capital programs, university police, accounting, real estate acquisitions, and procurement, as well as the planning and management of campus operating budgets. In addition to his duties as Vice President and CFO, Mr. Kim serves on the president's cabinet, the president's advisory board, the board of the Auxiliary Services Corporation, and the investment committee for the Philanthropic Foundation.
Prior to joining Cal State Fullerton, Mr. Kim worked in the University of California for 22 years, starting his career in higher education at UCLA before moving to UC Riverside, where his last appointment was Associate Vice Chancellor in student affairs. Before entering the field of higher education administration, Mr. Kim taught mathematics at a high school and community college in Los Angeles.
Mr. Kim is involved in his local community, having served as a guest columnist for The Korea Daily, guest lecturer at various graduate programs, and mentor to emerging leaders in higher education, among other roles. He received his BS in Mathematics and Systems Science from UCLA and an MBA from The Paul Merage School at UC Irvine.
Email: dkim@Fullerton.edu