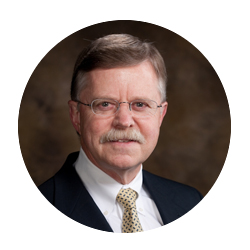 David Martinson recently retired from his position as the Associate Vice Chancellor for Business Affairs at the University of Arkansas flagship campus in Fayetteville. In recognition of his years of service to the University, David was conferred with the title of Emeritus upon retirement. He has extensive experience in higher education procurement and business services, having held leadership positions in NACUBO, SACUBO, AACUBO, and NAEP/TOAL.
Among his many accomplishments, David has: led the preservation and adaptive reuse of a prominent campus building as a historic inn and restaurant using a public/private partnership; co-chaired a state-wide administrative efficiency and improvements committee that secured passage of more than 20 legislative and regulatory changes over two sessions of the state legislature; co-authored a book on return-on-investment in the public sector; developed the award-winning Garland Center bookstore, retail, and parking complex that includes Walmart On-Campus – a prototype small footprint pharmacy and retail operation; and developed both the university's trademark licensing program and beverage sponsorship program.
David also served as CEO of Razorback Transit – a campus and community bus system carrying more than two million passengers per year.
Email: dom@uark.edu