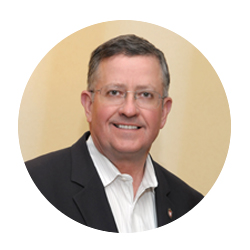 William M. Elvey, P.E. has more than 30 years of experience in facilities management, including 19 years in higher education. He is currently the Senior Vice President, Facilities and Real Estate at Children's Health System of Texas (CHST), where he is responsible for system-wide real estate; facilities planning, design, construction; operation, maintenance and repair; utilities, security, parking and transportation, engineering, safety, and environmental services functions.
Prior to his current position, Bill was the Associate Vice Chancellor for Facilities Planning and Management at the University of Wisconsin-Madison. His prior experience includes serving as the Director of Facilities Management at The University of Texas at Dallas, and as Assistant Vice President for Facilities and Director of Physical Plant at Virginia Tech. He also served 20 years with the U.S. Navy Civil Engineer Corps.
Bill is a former president of APPA and achieved Fellow status in 2012. He is a certified Facilities Management Professional (FMP) and a registered Professional Engineer (PE) in the State of Texas. He graduated from Rice University and holds a Bachelor's of Science and Master's in Environmental Engineering, as well as a Master's of Business Administration from George Mason University.
Email: william.elvey@childrens.com