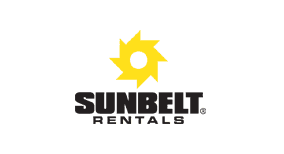 What do you get when you combine a network of 600+ locations, 90 product categories, 8,000 product classifications, comprehensive safety programs, and a "No Sweat Guarantee"? Our new Sunbelt Rentals contract!
Sign up for this contract and ensure you're well equipped for success. Sunbelt's extensive fleet includes general construction equipment, industrial tools, pumps, power generation equipment, trench shoring, scaffolding, remediation and restoration equipment, and much more.
Contract Highlights:
Access to proper equipment for the job with trained experts in specific equipment lines on hand to solve complex challenges
Discounted rates programs to fit your budgeting requirements
ToolFlex™ Rental Program: rent & exchange qualifying contractor tools & equipment as often as needed for a flat fee
Satisfaction Guarantee: the right equipment, on time, serviced & ready to do the job or the equipment that day is free
On-Time Delivery Guarantee: delivery within 45 minutes of the quoted time, or the rental that day is free
Availability Guarantee: stocked items with free delivery from another location direct to your jobsite if the item is not available at your servicing location
Afterhours Response Guarantee: local operational representative will respond to your afterhours call within one hour, or one day of rental is free
For detailed information on this contract, visit www.eandi.org/contracts/sunbelt-rentals. You may also contact your E&I Member Relations Representative or David Ott, E&I Portfolio Support Executive.
Sunbelt Contract