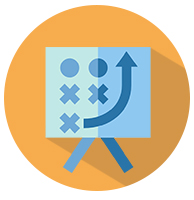 The E&I Strategic Sourcing Team is a volunteer committee consisting of procurement professionals from within the membership. Committee members represent all school sizes – from the smallest to the largest – as well as each of the Cooperative's six regional districts. The Committee convenes twice a year at alternating locations.

Team Members
Jennifer Adling | Texas Tech University, Lubbock
Travis Ball | Texas A&M University, Commerce
Tim Geary | Stowers Institute
Thomas Hippchen | State University of New York System Administration
Nichol Luoma | Arizona State University
Tim Maguire | UC Davis
Kevin Maloney | University of Pittsburgh
Paul Martin | Rensselaer Polytechnic Institute
Elizabeth Moss | University of Maryland, Baltimore County
Rosey Murton | Florida State University
Barry Swanson (Chair) | University of Kentucky
Sally McKechnie | Louisiana State University
Erin Riley | UCOP
Mission
The mission of the Strategic Sourcing Committee is to identify sourcing strategies and advocate collaborative business relationships that deliver maximum value to member institutions. Initiatives are borne directly from member recommendations, leading to the creation of dedicated strategy teams based upon specific commodity groups. Strategy teams are comprised of member volunteers with particular expertise in the selected commodity. Team members are dedicated to the development of current and future opportunities for institutional procurement of the recommended commodities.
Vision
Provide pro-active leadership in the endorsement and utilization of contracts
Assist in cultivating relationships with suppliers, members and member associations to identify new opportunities
Advocate socially responsible and environmentally friendly purchasing initiatives
Provide counsel and validation for sourcing opportunities
Goals
Identify, develop and cultivate strategic initiatives to support E&I's membership
Simplify the purchasing process
Continue to expand the breadth and depth of E&I's contract portfolio
Reduce the cost of doing business
Roles and Responsibilities
The committee shall assist in:
Data collection, spend analysis and benchmarking efforts
Communicating the E&I value proposition to members and suppliers
 The committee shall provide:
Counsel for E&I contracting and marketing teams
Assistance in staffing of RFP teams
The committee shall participate in:
Early adoption, promotion and utilization of contracts
Presentations at regional and other association meeting
Makeup and Structure
The committee shall consist of 12 representatives of E&I members
The committee will have the ability to identify and develop subject matter experts in sub-groups: bring in experts and cross-functional individuals, category office/ad hoc for specific projects
Representation of members based upon the selection criteria
Committee Structure
Selection Criteria/Requirements
Active, influential and leaders in purchasing cooperative and strategic sourcing
Regional representation from each of the 6 districts
Public/private/community/college representation
Size: small/medium/large representation
Who and when committee members decided
Who: Collaborative decision between the SSC and E&I
When: Meet twice per year – winter/summer schedule
E&I Strategic Sourcing Team