Winners recognized for innovative and effective use of cloud solutions in higher education
October 28, 2019 – E&I Cooperative Services (E&I), the nation's only member-owned, non-profit purchasing cooperative focused exclusively on serving the needs of education, announced the winners of the third annual E&I Cloud Leadership Awards during a ceremony at the EDUCAUSE Annual Conference 2019 in Chicago, IL. The awards recognize the achievements of E&I higher education member institutions through innovative use of cloud technology across several categories: innovation, collaboration, backup/disaster recovery, cloud storage, public/private cloud security, and hybrid IaaS/PaaS.
The institutions were nominated and judged by peers based on the cost-savings, increased efficiencies, and positive impacts these cloud solutions have had on their staff, students, teachers, and administrators.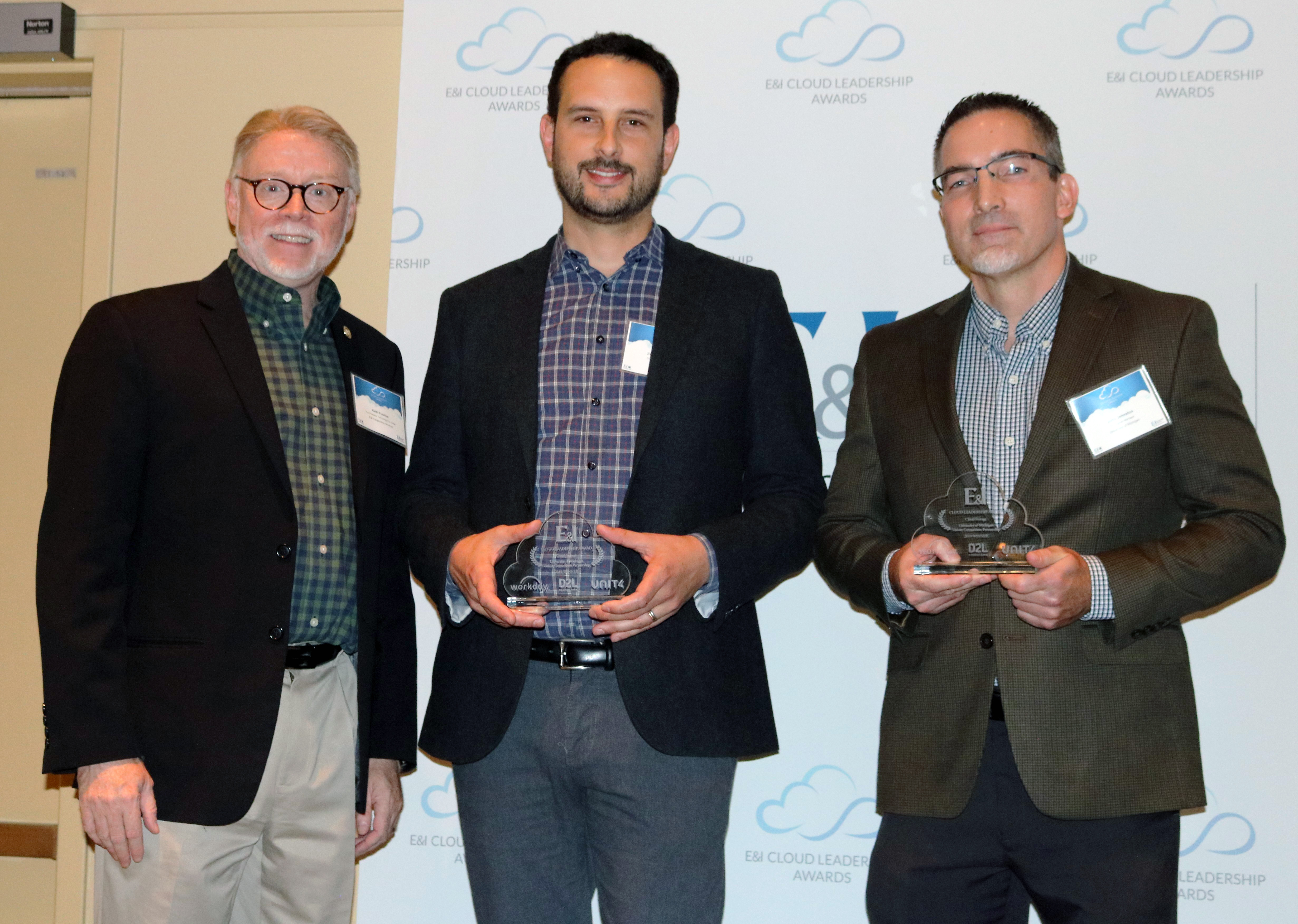 The University of Michigan/Unizin Consortium Partnership received the Best Overall Winner award for building My Learning Analytics. This cloud-native platform integrates data from the teaching and learning tool ecosystem and transforms it into a common data dashboard model.
The California State University System received the Best Overall Runner-Up award for establishing a Cloud Acceleration Center, which creates a collaborative environment to help campuses migrate to the cloud faster while building a shared services model.
"It is imperative for higher ed institutions to find innovative ways to use cloud technology despite facing time and budgetary restraints," said Gary D. Link, Chief Business Development Officer at E&I. "We are honored to recognize our members who have overcome obstacles to effectively implement new and existing cloud technology in groundbreaking ways this year."
All award recipients by category are listed below:
Winner: University of Michigan/Unizin Consortium Partnership
Runner-Up: The California State University System
Innovation
Winner: Stanford Medicine
Runner-Up: The George Washington University
Collaboration
Winner: University of Michigan / University of Minnesota / Internet2 Partnership
Runner-Up: Concordia University-Portland
Backup/Disaster Recovery
Winner: Bentley University
Runner-Up: University of the Virgin Islands
Cloud Storage
Winner: University of Maryland, Baltimore County
Runner-Up: The University of Arizona
Public/Private Cloud Security
Winner: University of Notre Dame
Runner-Up: Indiana University
Hybrid IaaS/PaaS
Winner: Kansas State University
Runner-Up: Penn State University
The Cloud Leadership Awards were established in 2017 by E&I Cooperative Services. Sponsors of the 2019 Cloud Leadership Awards include D2L, Unit4, and Workday. For complete details and information on how to nominate institutions for the 2020 awards, please visit: www.cloudleadershipawards.com.
###
About E&I Cooperative Services
E&I Cooperative Services (E&I) is the only member-owned, non-profit purchasing cooperative solely focused on serving education and related facilities. E&I delivers expertise, solutions, and services through a diverse portfolio of competitively solicited contracts. By leveraging the knowledge and purchasing power of its nationwide membership, E&I helps higher education and K-12 institutions reduce costs, optimize supply chain efficiencies, and save time on the RFP process. The Cooperative's member-driven competitive solicitation process has been validated by the National Institute of Governmental Purchasing (NIGP) as complying with generally accepted procurement standards. For more information, please visit: www.eandi.org.