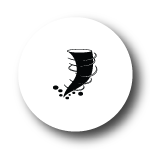 Tornadoes can strike with little to no warning, reaching potential windspeeds of 300 mph. Tornadoes can destroy buildings, flip vehicles, and create deadly flying debris.
The Midwest and the Southeast states of the U.S. have a greater risk for tornadoes. Although tornadoes can happen at any time of the year, tornado season is typically considered April through July, with May and June being peak months for tornado incidents.
The following E&I contracted suppliers offer products and/or services to help you prepare for and respond to a tornado.