Your Trusted Source for Microscopy-Based Imaging Solutions
Nikon's newest flagship microscope objective lenses are here – the CFI Plan Apochromat Lambda D series. These lenses realize the highest level of uniformity across a large 25 mm field of view ever. Image flatness has been improved by adopting a newly developed high-refractive index glass and correcting field curvature in the oil immersion objectives. Bright and clear images can be obtained right up to the edge of the 25 mm field of view.
---
Image of a fluorescently stained mouse kidney section acquired using a conventional 10X objective (left) and a Lambda D 10X objective (right).
---
These lenses also feature greatly improved chromatic aberration correction over wider range than ever before (405 – 850 nm) by using an extra-low dispersion glass. By combining next-generation aberration correction and field uniformity, the Lambda D series objectives provide unrivaled choices for modern quantitative and high throughput imaging applications.
---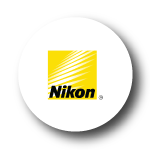 Please do not hesitate to contact Nikon to learn more.
Learn more about E&I's competitively solicited Nikon Instruments contract and get started today.