Schools like yours typically use dozens of power and lighting products… think touchless devices (faucets, paper towel dispensers, soap dispensers), fleet batteries, fire panel batteries, device backup power, indoor/outdoor lighting, security panel power, UPS units, 2-way radio batteries, scrubber batteries, and so on.
Today, you may be getting these products from another supplier, or even a few other suppliers. But a partnership with Batteries Plus means that our local experts are committed to providing you with the right product for the right application. Our goal for you is simple: Maximize investment in order to minimize replacement. Cheaper isn't always better, and cheaper isn't always cheaper, either.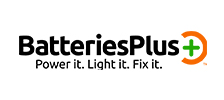 To learn more, listen to our joint podcast episode with E&I Cooperative Services and Duracell. Here, we discuss the importance of using the correct batteries in their proper applications to maximize your battery life, user experience, and ROI. Check out this episode of Cooperatively Speaking for all the details.