Save Time & Money with Batteries Plus
School stock-up starts now.
Students arrive in a little more than a month. Make sure you have all of the essentials needed to welcome them back to the classroom. Batteries Plus can provide you with thousands of products, including alkalines, SLA batteries for emergency & security systems and scrubber/sweeper machinery, lighting needs, tablet repair, laptop battery replacement and much more. Don't wait. Order essentials while stock levels are high.
---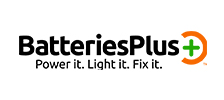 Learn more about E&I's competitively solicited Batteries Plus Bulbs contract. To find out more and gain access to your E&I discount, fill out the Letter of Participation.