Versatile Processing Capability
The RELIANCE 400 & 500XLS Washers are designed with versatility and productivity in mind. Various types and sizes of glassware and general purposes items can be processed at the same time by use of a variety of STERIS exclusive designed Accessory "Headers".
Vertical Power Door Design
Constructed of tinted, tempered glass with stainless-steel trim allowing the operator to view the chamber with the door closed. The vertical design of the door frees up space in front of the washer for ease of access to the processing chamber for loading/unloading as well as access to the debris screens.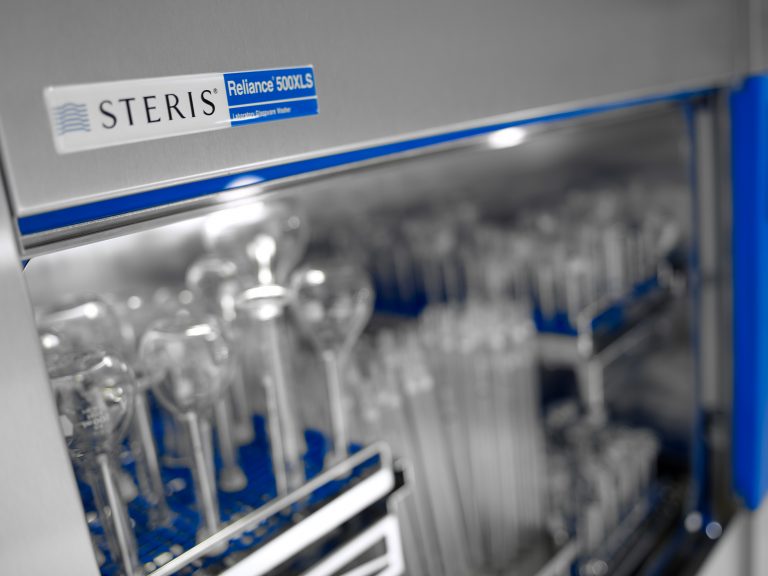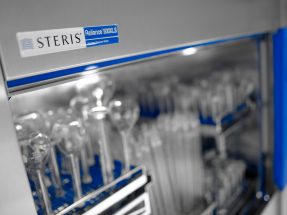 Stainless Steel Construction
Chamber, Frame, Cabinet, Doors, Spray System (including Screens, Rotary Spray Arms, Recirculation Piping, are manufactured of 304 Stainless Steel.
Dual Speed Stainless Steel Treatment Pump
The pump motor automatically adjusts speed (hi speed for use only when the multiple loading shelf is utilized). The pump housing, shaft, and impeller are manufactured from stainless steel.
Electronic Water Savings Control
The Control System utilizes an RTD to continually monitor and meter the amount of cooling water used to condense exhausted chamber and jacket steam. Also, water used during the final rinse can be saved for reuse during the first treatment phase of
the next cycle.
Electronic Data Security and Mobile/PC Messaging
The Panel View Plus 7 incorporates batch report, audit trail, and password-protected user level features. It is also possible to receive text messages and email alerts regarding the status of the washer.
Warranty
1-year Parts and Labor warranty
STERIS Service Support
STERIS has factory trained and employed Service Technicians that live in close proximity to your facility. STERIS Service offers guaranteed 2-hour response by phone and 8-hour on-site service support! Our support center is accessed via an 800 number or through the internet! Our Service Dispatch Center offers 24/7 on call support!

Additional Features and Benefits
> 50% lower water consumption compared to the existing models. This has a major impact on detergent and steam consumption and also reduces cycle time significantly.
Non-proprietary Allen-Bradley control system with color operator interface for increased reliability and ease of use.
Innovative energy recovery systems that reduce water consumption and operating costs even further.
Higher performance:

HEPA filter and SMART drying system for better and faster drying.
100% airtight doors to prevent re-contamination of load and reduce energy consumption as well as heat loss.
Optional process monitoring package for higher assurance of performance.

Optional S/S 316L chamber for increased durability.
New factory preset cycles for easier operation.
Higher pressure and non-recirculated final rinse to provide superior cleaning and rinsing performance. With data to back up the claim!
New improved Universal Shelving System for maximum flexibility and ease of use.
Optional built-in detergent compartment for increased convenience.
---
Learn more about our competitively solicited Steris contract and get started today.