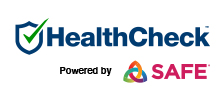 Safe Health Systems ("SAFE") is a digital healthcare company operated in partnership with Mayo Clinic. The company's mission is to reduce the cost of low-complexity care and commodity diagnostics at population scale.
HealthCheck® Digital Health Platform
SAFE offers a Digital Health and Connected Diagnostics platform which powers the HealthCheck® app, a status verification and testing solution for faculty, staff, students, and events. Our solution empowers users to play a more active role in their personal healthcare, through more convenient accessibility. The HealthCheck® app can be used directly, or we can work with you to deploy a white-labeled version or to integrate into your existing solutions.
SAFE® Testing Solution
The SAFE program has the ability to integrate with faculty, staff or student health programs allowing for convenient self-service options. Our intent is to partner with you to solve for the high costs of not testing, testing options and compliance in testing.
---
---
The SAFE platform has a variety of service capabilities, including:
COVID-19 testing options including PCR, Antigen and Antibody for oral, nasal and pharyngeal specimens
Molecular PCR testing through Cue Health with results in 20 minutes
Mayo Clinic protocols and expertise
HIPAA-compliant, privacy-protecting solution
What's next? Expanding capabilities and self-service testing options Fall/Winter 2021.
Low-complexity diagnostic testing, including testing for Strep, Flu, STDs, UTI
Telehealth consultations with access to providers licensed in all 50 states
E-Prescribing capabilities
Onsite testing for events
Check out the Safe Health Systems website at https://safehealth.me/ or the HealthCheck website at https://healthcheck.com/ for more information. Contact support@safehealth.me or call (844) 863-9591.
---
Learn more about E&I's Safe Health Systems contract and sign up today.