The E&I Enterprise Fleet contract provides expert solutions to manage your on-campus fleet vehicle programs.
Enterprise Fleet's management services address all fleet holding costs – from acquisition to disposal. This includes maintenance, fuel, insurance, registration, delivery and reporting. Enterprise provides in-depth, cost effective fleet management services, analysis and solutions to carefully monitor your fleet's activity and explore ways to bring additional cost savings to your institution.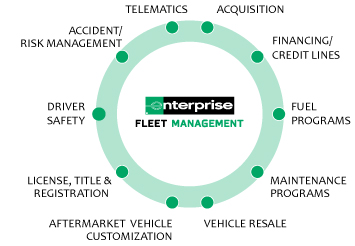 E&I Members are Eligible for a Fleet Cost Analysis Program:
FREE Cost Analysis comparing your current method of managing your vehicles with other industry options
Recommendations based on school needs and budgets
Improved cash flow
Reduced operational costs
Enterprise Fleet Management is a nationally recognized solution for both public and private institutions looking to improve cash flow, free up credit, and save time by offloading fleet. The company offers more than 55 regional offices and more than 425,000 vehicles under management. When combined with affiliate Enterprise Rent-A-Car, the number of vehicles exceeds 1.7 million.
Read more about the amazing benefits of this competitively awarded contract.
This agreement is the result of E&I's RFP#683311 for fleet leasing services.
Did you know? E&I and Enterprise also have a contract for Car Rentals. Learn more.
E&I Enterprise Fleet Contract
Related Content