Contract Number:
CNR01399
RFP or Project Number - Name:
683311 - Fleet Leasing Services
Agreement Type:
Competitive
Contract Effective Dates:
04/01/2016 - 12/31/2026
The E&I Enterprise Fleet contract provides expert solutions to manage your on-campus fleet vehicle programs. Enterprise Fleet's management services address all fleet holding costs – from acquisition to disposal. This includes maintenance, fuel, insurance, registration, delivery and reporting. Enterprise provides in-depth, cost effective fleet management services, analysis, and solutions to carefully monitor your fleet's activity and explore ways to bring additional cost savings to your institution.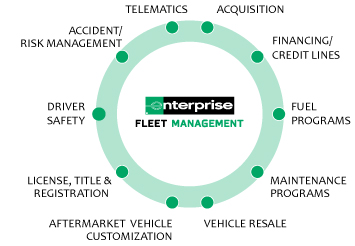 Enterprise Fleet Management is a nationally recognized solution for both public and private institutions looking to improve cash flow, free up credit, and save time by offloading fleet. The company offers more than 55 regional offices and more than 425,000 vehicles under management. When combined with affiliate Enterprise Rent-A-Car, the number of vehicles exceeds 1.7 million.
Contract Highlights:
Free cost analysis comparing your current method of managing vehicles with other options
Recommendations based on your school's individual needs and budgets
Open-ended lease option to help bridge funding gaps
Dedicated Fleet Coordinator during acquisition to organize convenient pickup/delivery
Registration, renewals, inspections, and temp tags
Customized online billing and reporting
Comprehensive maintenance solutions, including repairs with ASE certified technicians
End-of-lease and disposal services
Read more about the benefits of the competitively solicited Enterprise Fleet contract.
Did you know? E&I and Enterprise also have a contract for Car Rentals.
More Information
If you would like more information, submit this
form
and your
E&I Member Representative
will be in touch with you shortly.