E&I offers a comprehensive range of eProcurement solutions, from our no-cost online Marketplace to standalone platforms with varying levels of functionality and integration capabilities. These solutions make eProcurement accessible for all members while bringing increased visibility and market reach to our suppliers, regardless of their e-commerce capabilities.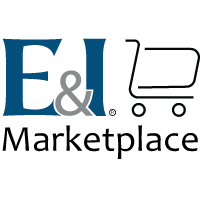 E&I Marketplace is a no-cost online shopping service where members and their end users can shop for products and services available through E&I supplier contracts in a fully secure, centralized purchasing environment. Functionality includes member-specific E&I contracts, support for p-cards and purchase orders, reporting, and basic approvals and admin rights. ERP integration is available at low or no cost.
How the E&I Marketplace Benefits You
No cost to be included in E&I Marketplace – and no cost for E&I members to join
Increased contract visibility to all participating E&I members and end users across campus
Representation regardless of e-commerce capabilities
Align with your processes through RFQs, POs, and punchout options
Intuitive search results through keywords matching your contract offering
Existing eProcurement users can punchout to the entire Marketplace
Next steps? If you are an E&I supplier and would like to be enabled on the E&I Marketplace, please contact marketplaceadmin@eandi.org.